Mike aka RGB, developer of the high-end Home Arcade System (HAS) supergun, is now accepting orders for the much anticipated and requested JAMMA extension harness.
Similar to Benime's extension cables that I acquired and briefly reviewed last year, RGB's dual-PCB harness will significantly alleviate the wear and tear effect on the supergun's edge connector, that would have been otherwise caused by swapping arcade boards.
Just like the HAS supergun, this here is a fully featured product. The connector PCB boasts a dip switch (for selecting 4, 5 or 6-button configurations), a voltmeter (optional), a proprietary HAS kick-harness connector and attaches to the JAMMA finger PCB (that includes an optional surface-mounted CPS2 kick-harness connector for non-HAS users) through high-grade cables.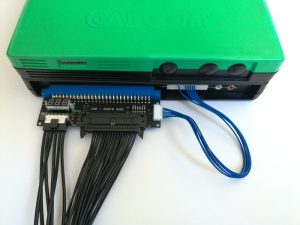 Here are the full HAS JAMMA extension harness specifications:
Supergun dedicated (not only for the HAS)
Hard gold plated JAMMA edge contacts
~60cm cables length (~68cm total length)
2x16AWG for GND, 2x16AWG for +5V, 1x18AWG for -5V, 1x18AWG for +12V, 22AWG for everything else
DIP switch to enable/disable buttons 4, 5, 6 outputs on the JAMMA connector
Compatible with the HAS kick harnesses (and it doesn't require any AUX harness between the HAS and the extension harness)
Clean design with solid copper planes and no unnecessary vias
The base unit is priced at 60 €. Optional add-ons are individually priced as follows:
Voltmeter – 5

€

4mm thick plexiglass case for both ends of the harness – 15

€

CPS2 connector for buttons 4-6 (only needed if you want to use HAS dedicated kick harnesses but you don't own a HAS supergun or a supergun that is capable of outputting 6 buttons per player via the JAMMA connector) – 4

€

Test and Service buttons – 3

€

CPS2 kick harness, 25cm long – 8

€

CPS1 kick harness, 45cm long – 8

€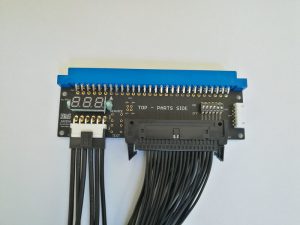 The featured extension harness alongside the HAS supergun form, what I would refer to as today's premium arcade consolization setup. Mike has put safety first when designing the aforementioned supergun, unlike so many other competing products out there, that when used with certain arcade boards, may cause serious damage to the user's equipment.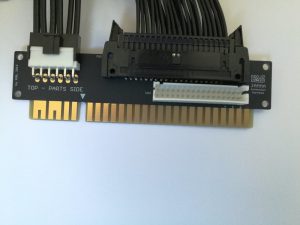 For more information check out the original post on the Arcade-Projects forum: http://bit.ly/2PSxX6o