I finally got around to installing the Noctua Fan into my dreamcast. I experienced a couple of issues that were all very minor and wanted to share them. All of these issues are actually questions that Greg had answered himself on the assembergames forum. I figured it would be good to document them somewhere else because of that forum's imminent closure.
I printed this on an industrial 3D printer at my job that doesn't have the tightest of tolerances so the surface finish is pretty rough. I had to sand the opening on the base latch piece in order to accept the latch arm. The fit is TIGHT and I wouldn't want to install it more than once. I'm sure that a better print would have a smooth installation by comparison.
The long latch arm is meant for aftermarket shells, the regular one is meant for the stock shell. I'm not sure if the longer one will work in a stock shell, but based on how hard these are to insert into the latch base, I would just stick to the one meant for the shell you have. This is not a problem if you buy from Greg's store as he ships exactly what you need based on how you fill in the order info.
The main issue I ran into was with the fan shroud itself. I could not get this to fit into my case because the circled leg was interfering with my gdrom drive. Turns out you just need to snip it off if you have a gdrom drive and leave it for extra support if you use the gdemu. The gdrom drive provides plenty of support. I spent more time than I want to admit trying to figure that out. I naturally didn't want to break a piece I spent a fair amount of time printing and cleaning up.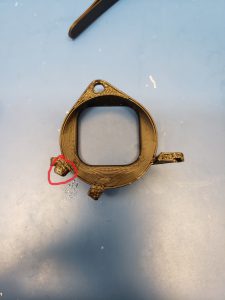 The last thing I noticed is that even with the new latch design,  my shell has a slight resistance when pushing down the eject button. Very minor and I believe it is normal. I just noticed it was much stiffer than before the mod.
Here is the post for the latest fan mod design information:
As an FYI, all of Greg's designs can be purchased from his web store here:  https://laserbear.net/