UPDATE:  Sold out.  A follow-up batch in silver should be coming in the future though!
A Virtual Boy fan and CNC machinist from Sweden has recently created a unique and helpful upgrade for the Nintendo Virtual Boy's stand:  A metal "medallion".
One common issue I've seen with Virtual Boy stands is the original plastic medallions crack over time, as the stand's legs pushes against the sides during use.  At first, this will cause the VB to sit lower, as the legs will have a wider stance.  Then, eventually, the plastic will break altogether and up until now, the only option was to buy an aftermarket stand.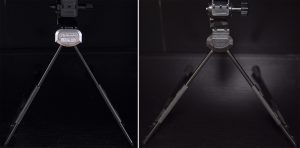 (Click for a full-sized pic that shows the original medallion's crack and wider stance)
The all-metal medallion provides a very sturdy and durable replacement for the original plastic one and in my opinion, it's a nice aesthetic upgrade as well!  The medallions come with the two M3x0,5 screws needed to mount it, making it a full replacement for the original – All that's needed is a 2 mm hex wrench / Allen key to tighten it down.
The creator Tony originally made a small run of silver medallions for a "beta" group and is now making a run of black anodized ones with the same engraved writing as the silver: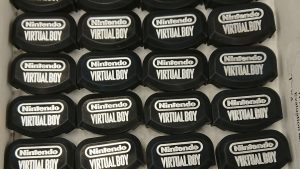 This is a limited run of medallions and they may not be made again, so if you're a hardcore Virtual Boy fan that wants both a visual and mechanical upgrade, you should seriously consider picking one up.
The medallions are a bit pricey at $30 each plus either $5 for regular or $15 for tracked shipping worldwide, however keep in mind that these are machined aluminium which is never something that can be done cheaply.  Also, please be aware that due to all the global issues at the moment, shipping will most likely be delayed.  I would hope that everyone is prepared to exercise a good amount of patience with all sellers these days, but I wanted to make the point clear that unless you live in Sweden, you should expect delays based on both the shipping service and the destination country's current restrictions.