Over 10 years ago, Sony released a PlayStation branded 3D display for use with the PlayStation 3. Almost ten years later, this display is an accessible and compact way to experience high-definition 3D content at home, PlayStation, and otherwise.
Preliminary Resources
PlayStation 3D Display Announcement – PlayStation Blog
PlayStation 3D Display Review – CNET
Scan of PlayStation 3D Display Manual
Overview
---
3D and SimulView
The PlayStation 3D Display produces a stereoscopic 3D image by packing two frames next to each other and quickly scrolling across the image. These two frames show the same scene from slightly offset perspectives, with one frame dedicated to each eye; the 3D glasses lenses rapidly alternate a dark filter over the viewer's eyes to block information from reaching the incorrect eye.
This display method is referred to as "frame-packing", and the scroll can occur vertically ("top-and-bottom" frame-pacing) or horizontally ("side-by-side" frame-packing). The PlayStation 3D Display is compatible with both vertical and horizontal frame-packing content, but the format must be selected using the Display's menu.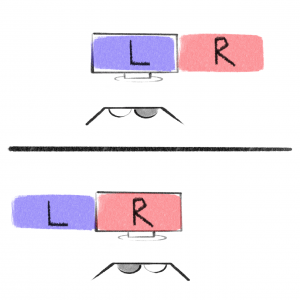 A graphical demonstration of horizontal frame packing viewed with active-shutter 3D glasses.
SimulView, a feature exclusive to the PS3, allows for couch co-op or split-screen to be shown in full-frame on the PlayStation 3D Display. One pair of glasses blocks all left-eye content, and one pair blocks all right-eye content. Interestingly, Sony sold unpowered glasses for use only with SimulView content.
3D and SimulView Content
Many late-generation PlayStation 3, Xbox 360, and some early-generation PlayStation 4 and Wii-U titles allowed for 3D effects, for use with both the PlayStation 3D Display and other 3D TVs at the time. A PlayStation Blog post has an incomplete list of 3D game and movie content available on the PlayStation Store, however, Wikipedia's alphabetized lists of PlayStation and Xbox games includes an indicator if the game can be played in 3D or SimulView.
Under the "Addons" or "Other" columns, search for the 3D label:
List of stereoscopic video games
PS3 games that are compatible with the PlayStation 3D Display will often have a "3D Compatible Game" badge displayed next to the ESRB or Sony Interactive Entertainment logos on the front of the box art, and a "3D Game" categorization on the back. For an example image, view the MotorStorm: Apocalypse cover.
However, not all 3D game content is formatted correctly for viewing on the PlayStation 3D Display; Batman: Arkham Asylum (Game of the Year Edition), for example, produces an anaglyph 3D signal, which requires the classic red and blue 3D glasses. Although this format can be displayed on the monitor, the active shutter glasses will not produce a 3D effect.
Other 3D Content
The PlayStation 3D Display can also be used for 3D content from other devices if they use vertical or horizontal frame-packing – including PCs. Using this display with the Citra 3DS emulator can be a fun experiment! Additionally, the monitor can display 3D BluRays and 3D movies from streaming services.
Buying Guide
---
The PlayStation 3D Display was released in November of 2011 for an MSRP of $500 USD. Today, the 3D Display is one of the priciest PS3 accessories listed on PriceCharting.com, with complete monitors selling for about $280 USD, and new monitors selling for about $400 USD. Displays can now be purchased on sales sites such as Facebook Marketplace and Craigslist, or can sometimes be found at local game stores.
The following search terms may be helpful in finding a PlayStation 3D Display on marketplace sites. Please note that sellers on these sites often mislabel the Display, and that is reflected in these possible search terms.
PlayStation 3D Display
PlayStation 3D Monitor
PlayStation 3D TV
PlayStation Display
PlayStation Monitor
PlayStation TV (the Display is often listed under this name, which will also yield results of the PlayStation Vita microconsole.)
Sony 3D Display
Sony 3D Monitor
Sony 3D TV (broad)
Sony Display
Sony Monitor
Sony TV (very broad)
Sony CECH-ZED1U
Compatible Glasses
The PlayStation 3D Display glasses use an active 3D shutter to create the depth effect. With active 3D glasses, the lenses rapidly alternate a dark filter over the viewer's eyes to send specific visual information to different eyes. Sync information that tells the glasses at what rate and time to filter is sent with an infrared signal from the PlayStation 3D monitor to the glasses. Many 3D home theater equipment uses active 3D glasses.
In searching for a set of four glasses for my personal use, I have purchased one new, generic-brand active 3D glasses from Amazon, two used active 3D glasses that originally came with a PlayStation 3D Display, and three used active 3D glasses that originally came with Sony Bravia 3D displays.
In my experience, the new, off-brand active 3D glasses did not produce a quality 3D image. However, the PlayStation and Sony glasses both produced a high-quality 3D image, with sufficient battery life and sturdiness for me to recommend their use; In short, buy used name-brand instead of new off-brand. Sony active 3D glasses can be readily found on second-hand sites, and I have even come across pairs in thrift stores.
The Illustrated 3D Movie List's extensive list of compatible 3D glasses
Considerations for Durability and Repairability
PlayStation 3D Displays have a plastic housing that is fragile at its corners. Additionally, the Display has a detachable base with a button and latch that can break or wear, meaning the base may detach when lifting the monitor. For readers concerned with finding a mint-condition display, there is also a removable plastic clip that covers the Display's sole USB port (which of course, is easy to lose).
The PlayStation 3D Display also has a known bad EEPROM, and its failure prevents an image from being displayed; this issue is frequently referred to as the "blinking red light". Fortunately, flashed EEPROMs are sold, and replacing the chip seems like an intermediate-level job. Please note that the replacement EEPROM needed is dependent on the model number.
Model 08E1-0DM7200 EEPROM eBay Listing
Model 08E1-0DM7400 EEPROM eBay Listing
iFixit Guides for the PlayStation 3D Display
Specifications
24-inch 1920x1080p LCD
2x HDMI (1.4a)
1x Component
1x USB (service use only, but does provide power)
1x 3.5mm Audio Out (headphones)
Requires IEC 60320 ("Figure 8") Power Cable
Compatible with universal remotes.
Other Features
When connecting a PSP 3000 to a high-definition display over component cables, game applications appear in a bordered window. When connecting a PSP 3000 to the PlayStation 3D Display, the monitor can zoom into game content to fill the whole display.